April 21, 2012 – How the Pros Rewrite

Professional writers know how to rewrite while most amateurs do not. Too many writers rewrite their scripts over and over without really improving it.
Over the past ten years, I've been fortunate enough to work closely with some of the smartest and most successful directors, producers and writers in the business. I've seen first hand how they evaluate and revise stories. Strikingly, almost none of them use the approaches taught in popular screenwriting books and seminars.
In fact, their methods often fly directly in the face of conventional wisdom.
This seminar will explore the tools and techniques used by many of the most successful people in the industry to evaluate and rewrite screenplays. These are the exact same tools I teach in my UCLA screenwriting classes.
Topics include:
Diagnosing testing the story that plays in other people's heads
Identifying and fixing foundational problems as opposed to chasing symptoms
Using strategic rewrite memos
Creating narrative cohesion and correcting structural weaknesses without destroying the originality of the story and characters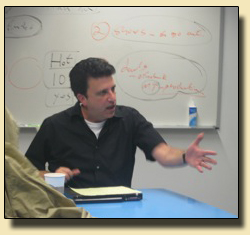 Corey Mandell is an award-winning playwright and screenwriter who has written projects for Ridley Scott, Wolfgang Petersen, Harrison Ford, John Travolta, Meg Ryan, Warner Bros., Universal, 20th Century Fox, Fox 2000, Fox Family, Working Title, Paramount, Live Planet, Beacon Films, Touchstone, Trilogy, Radiant, Kopelson Entertainment, and Walt Disney Pictures. Corey is also a distinguished instructor at UCLA, where he earned his MFA.
His students have gone on to sell and option scripts to Warner Bros., Paramount, Sony Pictures, Disney, Fox, Fox 2000, MGM, Universal, Showtime, USA Network, and Lifetime. Others have gained admission to the USC and UCLA MFA Screenwriting Programs, the AFI Conservatory Screenwriting Program, and SundanceScreenwriter's Lab.