Our History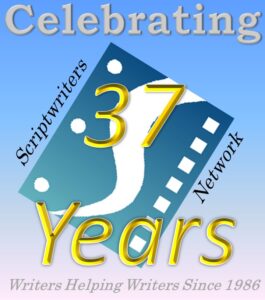 The Scriptwriters Network Foundation, Inc., aka Scriptwriters Network (SWN), founded in 1986, is an educational, tax-exempt 501(c)(3) Non-Profit, volunteer-driven organization created by writers for writers and industry professionals. The Network serves its members and guests by providing educational programming, enhancing their awareness of the realities of the business, developing access and opportunity through alliances with industry professionals, and furthering the cause and quality of writing in the entertainment industry.
We are a Non-Profit that provides educational and career-enhancing opportunities; including seminars, speaker events and script competitions for writers in film, television, new media and more. 
Whether you are a filmmaker, a screenwriter, a television scriptwriter or involved in writing novels, video games, scripted audio and more; we help take your writing to the next level.
In 1986, a group of writers began meeting regularly to discuss scripts and writing careers in the entertainment industry. To enter the group, members needed to submit a script in advance, and, in the next several years, the group began to add new members and new ideas.
In 2001, the group became an organization by acquiring the non-profit 501 (c)(3) status under the name of Scriptwriters Network Foundation, Inc. aka the Scriptwriters Network and developed its current logo. During the next several years, Scriptwriters Network became a membership-based organization and removed the script submission process as an entrance requirement. In addition, the organization grew and expanded, adding several programs, interactive events and meetings for screen writers.
In 2012, Ms. Melessa Y. Sargent was elected President of the organization. In the beginning of her tenure, she secured the trademark for the current logo and name (and all programs, events and meetings there under) of Scriptwriters Network. She also firmly established the "SWN" acronym for ScriptWriters Network, which is the acronym still used today. Additionally, SWN's President and her team updated all the paperwork necessary for SWN to maintain its non-profit 501 (c)(3) status.
Under her leadership, a user-friendly website was created, and, with the help of many volunteers they maintain the current site with educational information. SWN's membership section includes: audio recordings, video recordings, write-ups of past meetings/events, and more information for our members only in our membership section. There is much more information to be found on the web site, which is available to all.
SWN's volunteer team continues to bring the organization to the next level by utilizing several social media platforms, such as Twitter, Instagram, Meetup, LinkedIn, Pinterest, Tumblr, Facebook, Alignable and SWN's own weekly eblast newsletter containing SWN events and programs as well as partner events; each platform gaining thousands of followers.
Under Ms. Sargent's tenure, SWN has become more professional, organized and recognized, as the organization's focus is on educating and serving the writing community. Furthermore, SWN, under Ms. Sargent's leadership, has become an award winning organization and has won the Great Non-Profits Top-Rated Non-Profit Award in 2013 and 2018; the Los Angeles Award (for education) from 2014 to 2022; the Best of Glendale Award (for Non-Profit) from 2019 to 2022; Belize Film Commission Official Commendation in 2018 and 2019; 2019 Global Hospitality Award; Innovation & Excellence Award 2020; including additional awards and publicity, to date.
In addition Ms. Sargent is a Program Advisor for the Women In Leadership 2022 Program held at the University of California – Santa Barbara division. She is also listed in the Marquis Who's Who of Top Executives in 2022.
Ms. Sargent is the ONLY SWN President to achieve these numerous awards and publicity during her tenure. We are so proud of her, how she shaped SWN, and we hope you share our excitement in Ms. Sargent's success as well! 
Although we may mention the awards SWN is receiving through her leadership, helping others is Ms. Sargent's gift, her focus and very important to her!
Acknowledgements:
The Scriptwriters Network would especially like to thank those past organizers and board members who worked to establish the original network. We thank you for laying down the foundation and acquiring the Non-Profit status. We hope you are proud of what we have accomplished since, and we hope you support the network currently for the educational mission we have worked hard to maintain!
The Scriptwriters Network would like to give a Special Thank You to all our Speakers, Members, Guests, Sponsors, Partners and Volunteers; past, present and future. To our Speakers and Writing Consultants, THANK YOU for working with us, continuing to support us, and giving back your time to the writing community. To our Members, Guests and Friends, thank you for attending our meetings (live and virtual) and supporting us in every way, continuously. To our Sponsors and Partners, thank you for your support and continuing to work with us. To our many Volunteers that serve your time and those who continue to come on board and assist us in our mission, we are not able to do this without you, Thank You!
Finally, the Scriptwriters Network, would like to acknowledge and give a Special Thank You to the Attorneys and Consultants who assist and guide the organization to maintain its mission legally and professionally.
Thank You All!