Pitch Boot Camp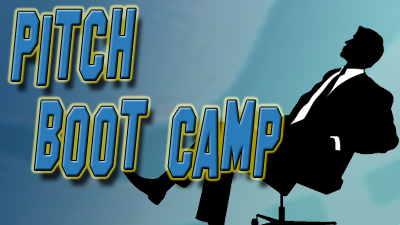 *We are now offering One-On-One Virtual opportunities for you to have this class exclusively with Ms. Sargent.   More information below.
Pitch Boot Camp (PBC) is designed to drill prospective screenwriters into delivering professional, concise and interesting pitches comfortably and sincerely to anyone at any time in any place under any conditions.
Our goal is to prepare screenwriters for participation at any pitching or networking event.
This Virtual PBC structure will consist of two parts.
The first part will be a discussion on pitching including information provided by past Speakers and Consultants.
The second part will consist of you pitching to your fellow attendees, thus potentially increasing the effectiveness of the screenwriter's pitching ability.
You will have the opportunity to pitch multiple times; honing your pitch.
Each attendee will pitch for five (5) minutes; per each time.
Each participant will hear other pitches.
Please be ready to pitch AND listen to other pitches.
Participants should have their material copyright protected and have a prepared pitch ready for this Virtual PBC event.
Click here for Pitch Boot Camp's attendee Jackie Devereaux' testimonial, "I highly recommend doing this."
***********************
**One-On-One Virtual classes are available with Ms. Sargent. Learn how to pitch in a limited time.  You will work on your pitching directly with Ms. Sargent and receive feedback. This is a great way to strengthen your pitching tools and maybe learn new techniques.
              How to get started with One-on-One's ONLY: 
Click on the Pay Now button below

to use your PayPal account, credit or debit card, which are also accepted. One rate for all –

$50.00 for a one-on-one class.
NOTATE which class this payment is for in the special instructions section.

Confirmation of payment

– you will receive this confirmation via email after your payment has been received.

Calendar request

– you will receive a calendar request in order to enter the day and time that works best with your schedule within a three (3) week period.

Confirmation of calendar request schedule

– you will receive confirmation of the day and time you scheduled via email.

Check your e-mail

for successful completion of payment and your calendar requests.
Allow 5 business days to process.
You will receive a Zoom link one (1) day before your scheduled session.
Any questions, please email – 

[email protected]

Reserve your space for an upcoming one-on-one class today.

Click on the Pay Now button below to use your PayPal account, credit or debit card, which are also accepted.

***********************
Click on our Upcoming Events page to find the date of the next "Pitch Boot Camp" event in a group environment.
We hope to see you there.
Disclaimer: Participation in SWN events, programs, workshops and classes is not a promise or guarantee of employment, and, is intended for educational and networking purposes only. 
______________________________________