October 8, 2011 – Sci-fi / Fantasy Screenwriters Panel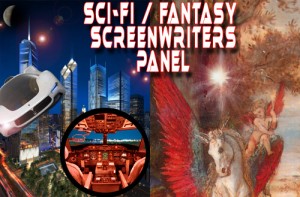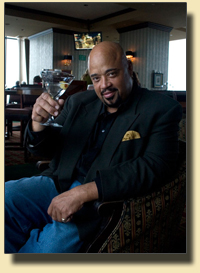 Having written seven produced episodes of Star Trek: Deep Space Nine and Star Trek: Voyager, sci-fi writer Jimmy Diggs has sold more spec Star Trek scripts than any freelancewriter in the more than 40-year history of the franchise.
A Vietnam veteran, Diggs got his break selling a pitch to TV producer Nicholas Corea for the series Renegade while working at the studio as a security guard.
He currently operates his own production company, House of Diggs Productions in San Diego.
He's been called the Jackie Robinson of Star Trek writers, the Sci-Fi Sheriff, the sweet walrus of love, AND the most interesting brother in the world! Ladies and gentleman, won't you welcome Jimmy Diggs!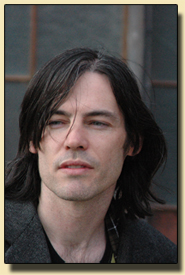 Mark Fergus and Hawk Ostby co-wrote the blockbuster "Iron Man" and were nominated for an Academy Award for their work on the film "Children of Men".
Fergus also directed Guy Pearce, Piper Perabo, William Fichtner and J.K. Simmons in the thriller "First Snow", from an original script by Fergus & Ostby.
In addition to their work on this summer's "Cowboys and Aliens", they've most recently completed a live action version of the iconic animated masterpiece "Akira", being produced by Leonardo DiCaprio's Appian Way; an adaptation of James Patterson's "Maximum Ride" for Arad Productions and Universal Pictures; and they've just commenced work on the reboot of "Lara Croft: Tomb Raider" for producer Graham King.
Dante Harper began as an independent filmmaker, directing the cult indie classic The Delicate Art of the Rifle, and went on to work as a producer and editor on many other indie projects before Dreamland, a film project based on the life of Tim McVeigh, which was accepted to the Sundance Screenwriter's Lab.
Since joining the WGA back in 2006, Dante has worked as a studio feature writer on numerous projects, including The Immortalist for Bennett Miller, a film adaptation The Wild Geese for Rupert Sanders, the graphic novel adaptation Black Hole for David Fincher. His first re-write, Tommy Wirkola's Hansel and Gretel:Witchhunters, will be released next spring.
His most recent project, All You Need is Kill sold to Warner Brothers in one of the largest spec sales of 2010, was the top ranked action script on "The Black List", and is currently in pre-production with Doug Liman attached to direct. He is currently adapting Isaac Asimov's "Foundation" series for Roland Emmerich, and developing television and feature projects under his new production company Cult Status, Inc.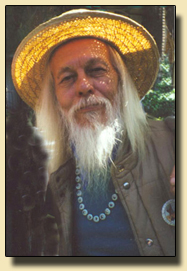 Born in a barn, George Clayton Johnson had to repeat the sixth grade and dropped out of school entirely in the eighth. He briefly served as a telegraph operator then draftsman in the United States Army, enrolled at the Alabama Polytechnic Institute (now Auburn University) under the G.I.Bill.
In 1960, the first story Johnson ever wrote served as the basis for the Rat Pack movie, Ocean's Eleven, although most of the details were changed for the film. He joined a circle of Southern California science fiction writers that included Theodore Sturgeon, William F. Nolan, Charles Beaumont, Richard Matheson and Ray Bradbury.
Through them he met Rod Serling, to whom he sold his first story ("All of Us Are Dying", produced as "The Four of Us Are Dying") and, later, his first teleplay ("A Penny for Your Thoughts").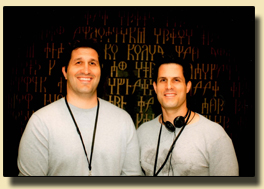 The Parlapanides Brothers are a writing team that currently have projects set up at Universal Pictures, Warner Brothers, Columbia Pictures and Paramount Pictures.
They have been working professionally as writers for nearly half a decade. IMMORTALS is their first produced studio credit. They previously wrote, directed and produced the indie comedy EVERYTHING FOR A REASON, which premiered at the AFI International Film Festival and was acquired for distribution by The Shooting Gallery. (SLING BLADE, YOU CAN COUNT ON ME)
Before entering the entertainment industry Vlas worked on Oppenheimer's Foreign Equity Desk while Charley attended Loyola Law School, where he graduated in the top 15% of his class. The brothers are a part of a large Greek-American family and originally hale from Seaside Park, NJ. Growing up they often spent summers in Patras, Greece and took part in both Greek School and Greek Folk Dancing. (interestingly enough they took part in these activities with comedian Demetri Martin, whose father was the priest of their local Greek Orthodox Church)
Both brothers went on to study Economics and Theatre in College. Vlas attended Villanova University while Charley attended Swarthmore College.