June 1, 2012 – Friday Night Drinks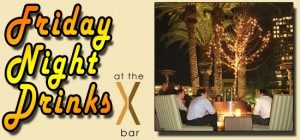 Friday Night Drinks is a networking group that meets the first Friday of every month. It started as a way for TV and feature writers to meet one another and has evolved into so much more.
This month's Friday Night Drinks is a free event being held at the Marriott Burbank Hotel & Convention Center's Daily Grill Restaurant and Lounge; in association with The Great American PitchFest & Screenwriting Conference.
Daily Grill's traditional American fare is modeled after the great big city grills of the 30's and 40's. Daily Grill Burbank is located off the lobby of the Marriott Burbank Airport and Convention Center, a popular destination for business and pleasure travelers. Featuring Genuine Angus Steaks and Chops, Fresh Seafood, Classic Cobb and Caesar Salads, Meat Loaf with Mashed Potatoes, Chicken Pot Pie and not-to-be-missed Desserts, all served in a sophisticated yet casual atmosphere by servers that really care about our guest's experience.