April 28, 2012 – Mythic Tools for Storytellers

The classic stories are still around because they work. Learn to use the time-tested story tools of Mythic Themes, Mythic Statements, Archetypes, and Symbols in your stories.
You'll become familiar with many powerful Mythic Themes besides the Hero's Journey, and how to use them.
What three Mythic Statements do you need to say specifically and up-front in words, without subtext or symbolism?
Align your characters with the ArchePaths [Warrior, Monk, Scientist, Magician, Lover] to create unique, dynamic, believable people.
Use the three levels of Symbolism to convey the deeper and wider meanings of your story.
Mythic Tools can help you create mythic stories that will be treasured and remembered for a long, long time.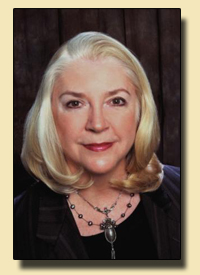 Pamela Jaye Smith is a mythologist, author, international speaker and consultant, and award-winning producer/director with over 30 years experience in features, TV, music videos, commercials, documentaries, corporate, military films, games, and web series.
She has worked at major Hollywood studios and with wildly independent companies, always enjoying the process of bringing creative ideas to the worldwide screen. She is the founder of MYTHWORKS www.mythworks.net and the author of INNER DRIVES, THE POWER OF THE DARK SIDE, SYMBOLS.IMAGES.CODE and BEYOND THE HERO'S JOURNEY.
Pamela helps people enhance their stories and presentations with the power of myth using Mythic Themes, Archetypes, and Symbols. Besides the standards, she also specializes in myth, magic, metaphysics, the military, and Masonry.
She has taught at the Great American PitchFest, RAI-TV Rome, National Film Institute of Denmark, Thot Fiction Marseilles, Screenwriting EXPO, UCLA, American Film Institute, USC Film School, Women in Film LA, and many other venues — including bringing story tools to the corporate world. Pamela Jaye Smith MYTHWORKS