High Concept Screenplay Competition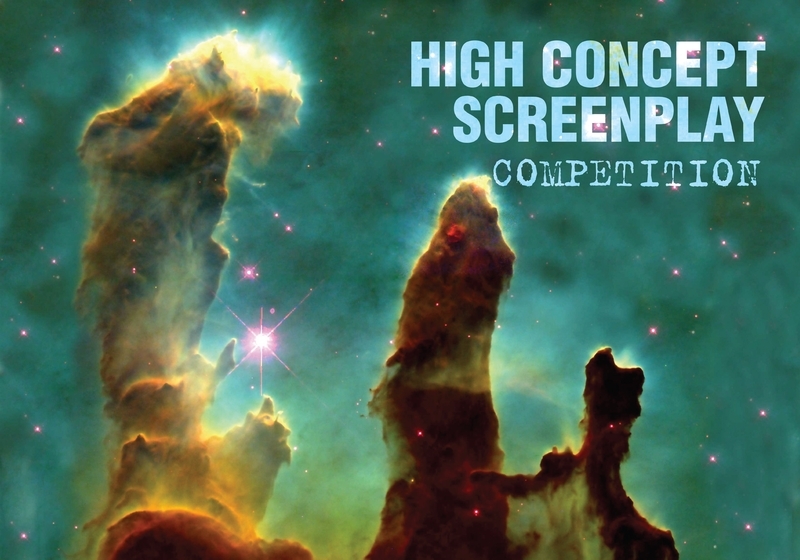 DESCRIPTION:
The High Concept Screenplay Competition welcomes all genres and aims to discover, honor and reward different approaches, eclectic points of view and unique voices in screenwriting. A high concept screenplay:
has a great premise – the idea is king (e.g. "Big")

has a memorable title – it conveys what the movie is about (e.g. "Wedding Crashers")

has a visual logline – you can see the movie (e.g. "40 Year Old Virgin")

has universal appeal – all demographics "get it" (e.g. "Star Trek")

has clear conflicts, high stakes, a hook, a ticking clock and/ or a twist (e.g. "Liar Liar")

has a succinct, descriptive "pitch" of 25 words or less (e.g. "Seven, Home Alone")
AWARDS:
| | |
| --- | --- |
| First Place |   $1500 & Screenplay Studio Software Bundle ($620 value) |
| Second Place |   $500 & Dramatica Pro ($270 value) |
| Third Place |   $250 & Movie Magic Screenwriter ($250 value) |
Three Winners:
Scripts will be eligible to be read by over 80 industry professionals including studio executives, production companies, agents and managers based on their request from interest in the logline and genre.
InkTip Script Listing:  A listing of your script on InkTip so that producers and reps can find you.
ELIGIBILITY:
The competition is open to both Scriptwriters Network members and non-members who are at least 18 years of age without feature credits.
Screenplay entries (English only) are to be unproduced, unoptioned and wholly original works of the writer(s) and responsibly registered with the Writers Guild of America and/or the U.S. Copyright Office.
Interstate and international entries are allowed.
Click here for standard feature screenplay format.
The title page of each screenplay submission must contain the title, genre and logline ONLY.  Do not include the name of the writer(s), contact information or other identifying details anywhere in the script.
There is no limit on the number of entries. Complete a separate submission for each script.
Scripts are to be in PDF format only.

Electronic submissions must be posted by midnight on the entry deadline.

Incomplete or late entries will be disqualified.
PROCESS:
1)  Go through the PayPal button below with a credit or debit card.  Pay as a guest user if you are not registered with PayPal.
–   Members will then be directed to log-in with their membership info to access the member rate.
–   Non-members will have access to the nonmember rate.  Please apply any applicable discount code.
2) After submitting the required information on PayPal, click to return to the SWN page where all entrants will upload scripts in PDF format on the Gravity Forms page.
3) Check the box confirming you agree to the competition rules and regulations.
4) The script submission will now be accepted.
5) Check e-mail for successful completion of entry.
6) Entries are evaluated in the categories of High Concept, Originality, Marketability, Story, Structure, Character, Dialogue, Clarity/Consistency, Grammar and Script Format.
7) There are 3 separate rounds of judging to narrow the entries down to 15 semi-finalists, 10 finalists and 3 winners. Each round is scored by a different set of judges.
KEY DATES
Early Bird Deadline:    October 1, 2015 ~ Members $35 / Non-members $45
Regular Deadline:      October 15, 2015  ~ Members $45 / Non-members $55
Extended Deadline:   November 1, 2015 ~ Members $55 / Non-members $60
Fees are NON REFUNDABLE. 
READERS AND JUDGES (to name a few):
Daniela Garcia-Brcek with Circle of Confusion
David Binns, VP of Development with Energy Entertainment
| | |
| --- | --- |
| WINNING ANNOUNCEMENTS: | |
| 15 Semi-Finalisits(ordered by title) |       Posted on website by December 15, 2015 |
| 10 Finalists(ordered by titled) |       Posted on website by January 31, 2016 |
|  3 winners | Posted on website by March 31, 2016 |
| Awards  | April 2016 |
GOOD LUCK!!
INDUSTRY CONTACTS:
Producers, production companies, agents, and managers who would like to read winning scripts may join our list by completing the Industry Contacts form. It can be downloaded from the documents section below. In the interim, please check out our previous winners.