On Set Series ~ FAM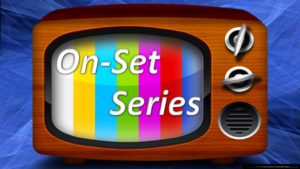 On Set Series provides you with an opportunity to see live studio tapings of current sitcom shows. As a writer, this experience will be both educational and beneficial to your own writing. If you are a TV/Feature/New Media writer, you can always learn from those who are actually working on a show; live action.
You will attend as an observer only; as part of the audience. You will not be able to interact with those on the set as they are working, so take a notepad and pen and take plenty of notes.
Observe how the director directs each of the scenes. Note the actors and how they act out the written word? Listen to the audience responses, did they come at the right time, etc.? Is there something that did not work with the audience? If so, how did the director/producer/writer make the change, what did they do? There are plenty more ways to observe, learn and then apply what you have seen to your own writing projects.
These shows are free to attend, however, you must RSVP and follow the Studio rules and information below. 
**Please note that each guest and/or attendee needs to REGISTER individually.
Upcoming show ~ RSVP below:
FAM
WEDNESDAY 10/24/18
CBS Radford Studios, Studio City, CA
Check in by 3:30PM, tapes from 5PM to 9PM
*110 seats (Min. age 18)
RSVP Deadline is: October 17th 
Watch the promo video:  https://www.youtube.com/watch?v=fousL6Q_GuI
Written by Corinne Kingsbury, Fam is about a woman whose dreams of an upstanding life with her new fiancé, Jay (Bell), and his upstanding family are dashed when her train-wreck younger half sister (Adlon) comes to live with her to escape their train wreck of a father. Bell will play Jay, a sophisticated NYU history professor who comes from old money but is refreshingly unaffected and down-to-earth despite his refined background. Deeply in love with Clem (Dobrev), he proposes to her — much to the delight of his parents, Walt (Mitchell) and Rose (Ralph), who think Clem is a real catch. But he learns that Clem has not been completely honest about a few key elements in her life: For example, her father isn't actually dead — and it drives a wedge of mistrust between them that might not be easily mended.
RSVP Here:
FAM – WEDNESDAY 10/24/18 – click here
(Exact addresses to be provided prior to event date.)
Studio rules and information:
The studios are not open to the general public unless you are a guest and/or are part of a studio audience. You MUST RSVP to attend a studio live taping of a show. If you are not on a list, you will not be permitted to enter the studio lots.
Absolutely no phones, recording devices and/or cameras are allowed or permitted in the studios while shows are taping; no exceptions!
Must be age 18 and above to attend all taping of all shows – unless stated above. Please bring your valid photo ID's with you.
Check-In: must check in no later than the check-in time and are expected to stay until the show's out time
Dress Code Attire: Most tapings you attend will be appropriate for Nice Casual attire (no beach wear); however, some speciality shows may request an audience wear something more specific such as Upscale/Business or Business Casual attire. If so, it will be listed above and you must be dressed appropriately when checking in with the Page staff.
Late Arrival: If you arrive late, please note that SEATING IS NOT GUARANTEED.
Rude or inappropriate behavior at the taping is not permitted.
All guests must go through metal detectors and/or hand-wand searches.
No alcoholic beverages or illegal drug use is permitted.
No weapons of any kind are allowed.
No electronic equipment of any kind is allowed. Cell phones are NOT permitted in the studio even if they are turned off. Please leave them in the car before checking in.
No outside food or drinks are allowed except for one bottled water per person.
You are expected to participate appropriately at the show by laughing and clapping and being engaged in the production. Doing homework, reading books/magazines, etc. while in the studio is not appropriate.
Limited breaks will be provided during the taping so as not to disrupt production.
Please be prepared to wait in line to check in at the studio door. Waiting and long hours are a part of the filming process.
Please expect taping to take three (3) to five (5) hours per show.
Please be professional, courteous and respectful at all times while on the studio lot during tapings as you never know who you may meet and you never know what may happen at the tapings.
By RSVPing to this event on this page and attending, you agree to these rules and information and you agree that Scriptwriters Network is the organization that will add your name to our RSVP list. Once you are on the studio lots, the studios are in charge and have the right to make any changes and/or deny entrance.
You do not have to be a Scriptwriters Network annual paying member to attend this event. However, each guest and/or attendee needs to REGISTER individually.
Scriptwriters Network reserves the right to deny names to our list, at any time, for any reason. If you RSVP, we ask that you show up.
Please make sure to follow these rules and information.
SECURITY NOTICE: Studio policies prohibit visitors from possession or use of alcohol, drugs, firearms, knives, chemical sprays and weapons of any sort anywhere on studio premises. Any violation may result in immediate removal. Cell phones, cameras, large bags, backpacks, and recording devices of any kind are not permitted in the studio.
ALL GUESTS AGE 18 AND OLDER MUST BE PREPARED TO PRESENT A VALID GOVERNMENT ISSUED PHOTO ID AT CHECK IN. MINIMUM AGE RESTRICTIONS FOR ADMISSION WILL BE ENFORCED. FOR CHILDREN'S SHOWS OR THOSE WITH A
MINIMUM AGE UNDER 18, EACH CHILD MUST BE ACCOMPANIED BY AN ADULT CHAPERONE OVER THE AGE OF 18 WITH A VALID PHOTO ID. UNATTENDED CHILDREN WILL NOT BE ADMITTED.
Enjoy!