November 19, 2011 – TV-Writing 101: How To Break In, Get Your First Job, and Stay Alive as a TV Writer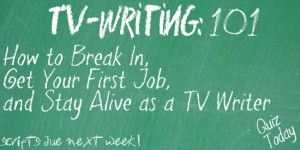 With Chad Gervich

Think you have a great idea for a Modern Family spec? A brilliant new pilot waiting to be shot? A mind-blowing pitch ready hungry for buyers?
Well, guess what?… It's not enough. TV is a business… with its own unique rules and processes… and these rules determine both how the business runs and makes money… and how shows work creatively.
So if you wanna break in—as either a staff writer or with an original pilot—you need more than just writing talent. You need a profound understanding of how the TV business works… and how its specific rules and paths affect you, your writing, your approach to a career.
What's the real difference between a network and studio? Where can you get an if-come… and do you want one? Should you partner with a pod? Does your pilot need a franchise? How important is an agent? When should you not be paper-teamed?
In "TV-Writing 101," we take an up-close look at how today's TV industry functions: its structures, corporate relationships, creative processes. We examine how these factors affect you and your career… how to navigate TV's bizarre network/studio system… and how to land your first job. Whether you're hoping to sell the next Breaking Bad or Parks & Recreation… or score a gig during next year's staffing season… this seminar will arm you with the knowledge and insight needed to become TV's hottest literary property.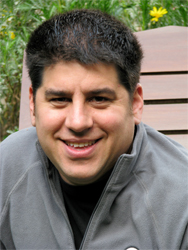 Chad Gervich is a television producer, bestselling author, and award-winning playwright who currently has a TV development deal with 20th Century Fox.
As a writer and producer, Chad has written, developed, and produced projects (both scripted and reality) for ABC, FOX, Warner Brothers, Endemol, E!, Style, Fox TV Studios, CBS Studios, Food Network, Weller/Grossman Productions, the Weinstein Company, SuperDelicious, TruTV, and Fox Reality Channel.
His credits include Wipeout, Reality Binge, Speeders, Foody Call, Cupcake Wars, After Lately, and others. He previously spent five years as an executive with the Littlefield Company, former NBC president Warren Littlefield's production company, developing shows for NBC, ABC, CBS, UPN, and the WB. He has also worked in production on numerous shows such as Malcolm in the Middle, Girls Club, The Academy Awards, Star Search, and The Wanda Sykes Show.
As an author, Chad's TV-writing handbook, Small Screen, Big Picture: A Writers Guide to the TV Business, debuted in November, 2008, and has become a fixture in classes and training programs at CBS, NBC, NATPE, the WGA, and several colleges and universities, including California State, National University, Long Island University, and USC.
Chad writes Script magazine's "PrimeTime" TV blog, and he is a regular contributor to Daily Variety, Writers Digest, Orange Coast, and several other nationally available books and magazines.