How To Write A Comic Book Script And What To Do With It After It's Finished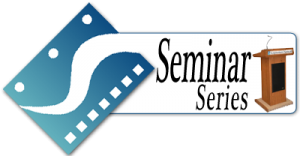 Event Date: Saturday, April 25, 2015 || Speakers: Matthew Fischer, Martin Ayala & Hillary Bauman || Check-in: 12:30 pm ||
Matthew will discuss his own experiences writing comic books as a freelance writer, from working in a comic book store, to self-publishing his first comic and setting up at comic book conventions, and finally to pitching and being hired to write for publishing companies.
 **UPDATE: Guest speakers added ~ Martin Ayala & Hillary Bauman
**The deadline has passed and REGISTRATION is now CLOSED for this event. Please view our calendar for upcoming events.
Check-in begins at 12:30 pm.
Event starts at 1:00 pm.
No Refunds. No Credits.
Matthew will help provide technical know-how when it comes to the craft of writing, as well as provide anecdotal experience about making contacts and networking, getting that first pitch all the way though to contract negations and having your book published.
Examine the technical aspects of how to write a comic book script.
Self-publishing vs. Freelancing.
Comic Book conventions, networking opportunities and how to make the pitch.
Working with artists, editors and publishers.
About the Speakers:
(In photo: Matthew Fischer and Martin Ayala)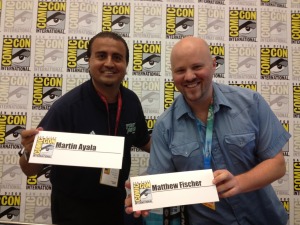 Matthew Fischer is an award winning screenwriter, winner of Best Screenplay at the Filmmaker International Film Festival and the Remi Award at the WorldFest-Houston International Film Festival. Matthew has written for comic books, film, animation, and video games. Recently he has been creating comic strips for Tony Pitch Comics. His films include Mortal Enemies and King of Fighters.
Matthew has written for entertainment companies including Lionsgate, Convergence Entertainment, Creative Motion Pictures and comic book companies Stan Lee's Pow Entertainment and Tony Pitch Comics. He has collaborated with leading industry illustrators Art Baltazar (Tiny Titans), Stuart Sayger (IDW Publishing) and Fernando Argosino (Top Cow).
His work spans genres ranging from martial arts action to psychological thrillers and mystical fantasy. He possesses the unique ability to create dynamic characters and energy-filled projects while understanding how to adapt intellectual properties into a variety of mediums, including animation, live-action films, television, and comic books.
Matthew's Work can be seen here:
http://www.imdb.com/name/nm3227459/
http://www.amazon.com/Matthew-Fischer/e/B00T1C4VEE
http://www.tonypitchcomics.com/
http://www.tinyco.com/
http://www.digitaldomain.com/
http://www.powentertainment.com/
Short stories, sneak previews, and links to other creative endeavors are available at:
http://matthewryanfischer.blogspot.com/
Martin Ayala.  Martin is the Publisher and Editor in Chief of Tony Pitch Comics.
About Tony Pitch Comics
Tony Pitch Comics is about a voyage… the journey that everyone goes through to reach their goals. Every athlete who has been successful endures many of the things that Tony and his team will undergo. His adventures will inspire and show you absolute real life situations as well as teach proper soccer techniques.
Welcome to the exciting, dynamic journey of Tony Pitch and the North Park Warriors. where you'll be entertained by learning soccer!!
Check out our Comic Books and Comic Strips for absolutely FREE!!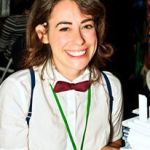 Hillary Bauman creates art for stage, film, comic books, and personal commissions.  She is a native of California, a graduate of Chapman University and resides in Hollywood.
Her current work includes the graphic novel Cirrus: The Red Storm, a collection of short comic book stories entitled "and…All That Jazz," and her newest graphic novel GALILEI.
Check out thechromabear.com, backallieart.wordpress.com for the current scenic painting updates and cirrusgraphicnovel.com to share in the journey.
---
Join us on the Fourth Saturday at:
Studio/Stage
520 North Western Avenue
Los Angeles, CA 90004
**There is plenty of street parking.
Meeting Timeframe: 1:00 pm to approximately 3:00 pm.
Members, please remember to bring your SWN membership card!
Any questions, email us at info@scriptwritersnetwork.org