High Concept Screenplay Program (HCSP) ~ Regular Deadline: July 29, 2022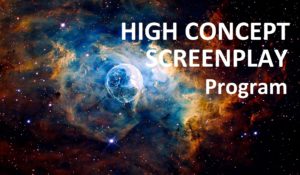 Submissions are
now open!
Regular Deadline: July 29, 2022
CONTACT: Director – [email protected]
DESCRIPTION:
The High Concept Screenplay Program welcomes all genres and aims to discover, honor and reward different approaches, eclectic points of view and unique voices in screenwriting. A high concept screenplay:
has a great premise – the idea is king (e.g. "Big")
has a memorable title – it conveys what the movie is about (e.g. "Wedding Crashers")
has a visual logline – you can see the movie (e.g. "40 Year Old Virgin")
has universal appeal – all demographics "get it" (e.g. "Star Trek")
has clear conflicts, high stakes, a hook, a ticking clock and/ or a twist (e.g. "Liar Liar")
has a succinct, descriptive "pitch" of 25 words or less (e.g. "Seven, Home Alone")
PROCESS:
Phase One: Two readers will evaluate your screenplays and provide written feedback analyzing structure, story development, characterization, dialogue, format, as well as overall impressions. If recommended by two readers, the script will advance to Phase Two.

Phase Two: Loglines of feature and/or screenplays that receive a double recommend from Phase One will be forwarded to our list of agents, managers and producers.

Please note, our readers will read your entire script and you will receive two detailed evaluations from two different readers. (All evaluations will be returned in the middle of January, 2023).

**The Scriptwriters Network reserves the right to publicize the writer's name and selected screenplays.
**As an educational organization, SWN's High Concept Screenplay Program's objective is to better assist you in achieving your goals of becoming a better writer by providing positive, constructive detailed feedback/evaluations on your entire script.
PRIZES:

Loglines and/or Scripts will be eligible to be read by industry professionals including studio executives, production companies, agents and managers based on their request from interest in the logline and genre.
Receive a one year membership or a one year membership renewal to the Scriptwriters Network (SWN).
The top three winners will receive a 4-month InkTip Pro Membership. As an InkTip Pro Member, thousands of filmmakers can find and read your scripts, and you'll be able to pitch directly to production companies every week. With over 3,000 options and 400 movies made, InkTip is the place for independent film.
The top three winners will meet VIRTUALLY, one-on-one with a Writer and/or Producer.
The top three winners will meet VIRTUALLY with a Literary Manager.
The top three winners: Ten (10) Pitches on VPF, the platform for TV/Film professionals seeking scripts and writers to represent. With VPF, writers can submit Written Pitches to 500+ networks/studios, producers and agents with the assurance of a guaranteed response.

Winners will also receive a Pitch Boot Camp class with Ms. Sargent, SWN's President, prior to pitching on VPF. 

Arc Studio writing software for the top three winners. Arc Studio goes beyond industry-standard formatting, offering real-time collaboration capabilities, distraction-free design, and advanced story-building tools.
The top three winners: SWN/We are in the process of retrieving funding and supporters, in order to produce the winning scripts with our production company. We want to make sure you have a chance, at least once, to see your project developed. 
Updates and changes to be added.
ELIGIBILITY and ENTRY RULES:
The HCSP is open to both SWN members and non-members who are at least 18 years of age or older.
All scripts must be wholly original works of the writer or writing team, unproduced and unoptioned, and, responsibly registered with the Writers Guild of America and/or the U.S. Copyright Office.
Interstate and international entries are allowed.
Do NOT put your name or contact information anywhere on the script or title page you submit. Personal information should ONLY be included in the entry form, so that scripts remain anonymous. Title is only allowed on the title page.
There is no limit on the number of entries. Complete a separate submission for each script.
Scripts are to be in PDF format only.
Electronic submissions must be posted by midnight on the entry deadline.
Scripts are to be submitted in English language only.
Submissions that do not meet the full requirements will be disqualified.
SUBMITTING SCRIPTS:
1) Go through the PayPal button below with a credit or debit card. Pay as a guest user if you are not registered with PayPal.
– SWN Members will then be directed to log-in with their membership info to access the member rate.
– Nonmembers will have access to the nonmember rate. Please apply any applicable discount code.
2) After submitting the required information on PayPal, click to return to the SWN page where all entrants will upload scripts in PDF format on the following page.
3) Check the box confirming you agree to the competition rules and regulations.
4) The script submission will now be accepted.
5) Check e-mail for successful completion of entry.
6) Any questions, please email the Director – [email protected]
Entries occur once per year.
OCCURRENCE & SUBMISSION FEES:
Early bird Deadline:  June 29, 2022

Member Fee – $59
Non-Member Fee – $91

Regular Deadline:     July 29, 2022

Member Fee – $84

Non-Member Fee – $116

Final Deadline:     August 29, 2022

Member Fee – $109

Non-Member Fee – $141

Non-SWN Member Special:  

SWN 1-Year Membership & TOP Fee – $259
---
There are NO REFUNDS.
Final results are announced in the middle of January 2023.
**All evaluations will be returned in the middle of January, 2023.
NEW READERS:
We are always looking to expand our pool of experienced readers in HCSP. Please contact us at [email protected] for details.
INDUSTRY CONTACTS:
Producers, production companies, agents, and managers who would like to read winning scripts may join our list by completing the Industry Contacts form. It can be downloaded from the documents section below. In the interim, please check out our previous winners.