Happy New Year!

Date: Wednesday, January 1, 2013 || Holiday Hiatus  ||
Members, Sponsors, Partners, Friends and Guests:
On behalf of the Board of Directors, Executive Committee, Steering Committee, Advisory Committee and the President, we would like to wish you a Happy New Year!
May your New Year be filled will joy, happiness, success, wonderful opportunities and most importantly, plenty of writing!!
Have a wonderful and prosperous New Year!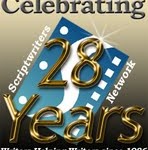 Any questions, email us at info@scriptwritersnetwork.org