April 23, 2011 – The Starter Screenplay

As a production company executive, Adam Levenberg has read nearly 3,000 screenplays sent out by major agencies. After becoming an independent consultant, he opened his business to unrepresented screenwriters and spent over 1,000 hours talking with writers from around the world about their spec scripts.
Inspired by SAVE THE CAT's helpful guide to structure, Adam synthesized and organized everything else that unrepresented writers needed to know his revolutionary book THE STARTER SCREENPLAY.
Adam will discuss sections of the book, including:
HOW TO DO TIME-EFFECTIVE RESEARCH – Some writers spend months or years doing project research. Adam will tell you how accomplish more in a single hour online.

IDEAS OF VALUE – Adam's trademark concept is the difference between amateur and professional screenplays.

HOW TO (AND NOT TO) APPROACH HOLLYWOOD – Adam will provide unique insight  and suggest new approaches that save time and energy, allowing you to focus your efforts on writing.

WHAT QUESTIONS TO ASK A PRODUCER, AGENT, OR MANAGER INTERESTED IN YOUR SCRIPT.  Don't waste your time with people who can't help you.  This is what you need to ask to assess the person courting you.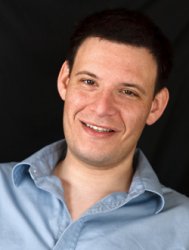 Adam will also answer questions and offer a free treatment consultation to one lucky winner (a $299.99 value).
Adam Levenberg is a former development executive who consults on feature film projects for top producers, actors, and screenwriters.
His first book, The Starter Screenplay — the ultimate resource to help you determine "what should I write next?" is available now at thestarterscreenplay.com.