3-Day Screenwriting Marathon – April 12-14, 2013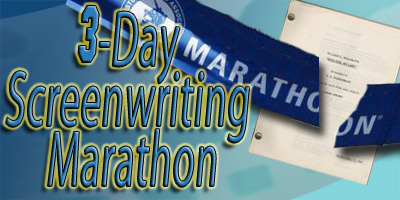 Event Dates: Friday, April 12, 2013 through Sunday, April 14, 2013 || Check-in: 8:00 am||
Time Frame: 8:00 am to 8:00 pm each day ||
A dream is a beautiful thing, but it's NOT a plan.
Show up in Hollywood with a dream alone, and that's all you'll have when you leave.
It takes a plan to get things moving…..A blueprint…..A draft.
So here's a chance to turn that dream into a tangible, 3-hole punched reality.
 **The deadline has passed and RSVPs are now CLOSED for this event. Please view our calendar for upcoming events.
For three days, dozens of writers will converge on a cozy Larchmont cafe to blaze through shameless first-drafts in all their glorious imperfection.
No procrastinating. No editing as you go. No excuses.
Where: Bricks & Scones Cafe
403 North Larchmont Blvd. (between Beverly Blvd & Melrose)
Los Angeles, CA  90004
When: Friday, April 12 – Sunday, April 14, 2013
Time:  8:00 am – 8:00 pm each day
********************THIS EVENT IS TOTALLY FREE********************
Just remember, this is a working cafe so buy snacks, tip your baristas, and get there early since tables can't be guaranteed. Bring an outline if you have one, but all you really need is the daring to explore wherever your creativity takes you.
John Hughes wrote "The Breakfast Club" in two days. 
Stallone churned out "Rocky" in three.
The "South Park"  guys write & produce every episode in six.
You came here to write scripts you're passionate about. So write one. Now. Or just carry that beautiful dream around for the rest of your life.
Questions, please contact David Kurtz at Kurtz@ScriptwritersNetwork.org
**Deadlines for the Nicholl Screenwriting Fellowships & 
The Sundance Writers Lab are both May 1, 2013.
Take your shot!