Writers Groups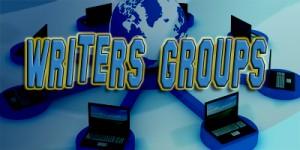 There's nothing sadder than a lonely screenwriter.
After you finish your screenplay, the best thing to do is come out of your cave and share it with your peers for their feedback. Writers Groups are a simple, effective way to improve your work!
The Scriptwriters Network has helped to establish and promote writers groups throughout Los Angeles and the United States. You do not need to be a member of the Scriptwriters Network to join any of these groups. Please read the FAQ for more information.
Each group is run independently, so find the group below that best suits your needs and contact its moderator directly.
Can't find one in your area? Why not start a group of your own? Have an existing group you'd like to see added to this list? Contact writersgroups@scriptwritersnetwork.org.
SOUTHERN CALIFORNIA
CULVER CITY GROUP
Meets twice monthly on Tuesdays, primarily feature screenplays.
Moderator: Amie Kelbing, akelbing@gmail.com

HOLLYWOOD FEATURES GROUP
Meets every other Tuesday, 7:30pm, in Hollywood.
One full script discussed per session (read in advance; shorts and partial drafts okay too!)
Open to new committed members now!
Moderator: Nancy Griffis, hollywoodfeaturegroup@gmail.com
HOLLYWOOD WRITE CLUB
Meets every other Sunday at It's a Grind Coffee House
Features, shorts, and pilots, one script discussed per session (read in advance)
Moderator: Howard Casner
For more info, join the meetup group
INK TANK GROUP
Meets Sunday evenings, twice monthly, in Burbank and Downtown L.A. (alternating)
Features only, one full script discussed per session (read in advance)
Moderators: Jeff Gittel (jeffgittel@yahoo.com) and Wanda White (wandawhite@me.com)
Join the meetup group
INLAND EMPIRE GROUP
Meets in Rancho Cucamonga
Moderator: Jim Hague, jimhague@hotmail.com
PASADENA GROUP
Moderator: Eric Axel Weiss, ericaxelweiss@yahoo.com
SANTA ANA GROUP
Panera Bread Bakery in Orange
Moderator: Judith Watson, cinemaself1@aol.com
SANTA MONICA GROUP
Advanced writers only
One full script discussed per session (features and TV, read in advance)
Moderator: Chris McQuade, chrismcquade@yahoo.com
SOUTH COUNTY GROUP <—NOW FORMING!
Long Beach/Orange County, focus on TV, features welcome too!
Moderator: Todd, toddvdw@gmail.com (include your writing history/goals)
TOLUCA LAKE GROUP
Moderator: Jason Stillman: jsmovieman@juno.com
TV WRITERS WORKSHOP (WEST L.A. GROUP)
Meets 3rd Sunday of every month in West L.A.
Advanced and serious writers only, half-hour comedies and hour dramas
(Sorry, this group is currently full. Please check back later.)
Moderator: Tanisha White, tanishawhite1@yahoo.com
VENICE GROUP
Moderator: Geoff Prather
For info, please visit http://inscreenwriting.com
VENTURA COUNTY GROUP
Moderator: Rich DeBaun, richdebaun@gmail.com
WEST HOLLYWOOD GROUP
REWRITES Tuesdays at Elderberries Café
Moderator: Halli Kristjansson, RewritesRewrites@gmail.com
WESTSIDE WRITERS PRODUCERS LAB
Meets Tuesday evenings, twice monthly, in Brentwood
Moderator: Richard Kim. Click here for more info.
OUT-OF-TOWN
BERKELEY, CA GROUP
Moderator: Justin M. Sloan
Join the meetup group
BOSTON, MASS. GROUP
Moderator: David Pulson, cryptkck5@gmail.com
DALLAS/FORT WORTH GROUP <—NOW FORMING!
Moderator: Ben Pluenneke, bpluenneke@yahoo.com
D.C. METRO GROUP (D.C./MARYLAND/VIRGINIA)
Moderator: Phillip Small, psmall579@gmail.com
LAS VEGAS GROUP
Moderator: Suzi McDonald, ladybrooks06@yahoo.com
LONG ISLAND SCREENWRITERS GROUP (LISG)
Meets monthly (Wednesday evenings). All formats and genres.
2 table reads per session, up to 30 pages at a time. Actors welcome.
Moderator: Howie Young, mishi66@aol.com (include LISG in subject line)
Visit Facebook group page for more info.

PHOENIX, AZ. GROUP
Moderator: Mark Pechman, airbus1999@aol.com
SALT LAKE CITY GROUP
Moderator: Christopher Wilde, christopher801@msn.com
SAN FRANCISCO GROUP
Moderator: Peter Fraser, FraserGate@aol.com
SARASOTA, FLORIDA GROUP
Moderator: Laurie Stoner, laurissas@msn.com
SPECIAL INTEREST GROUPS
TRIAD GROUPS
Coordinator: Jason Stillman, jsmovieman@juno.com
(Limited to three writers)
WEBISODES GROUP
Moderator: Steven Diebold, steven@ideaintoaction.com
VISUAL MINDSCAPE GROUP
West Hollywood – Join the meetup group
Moderator: UCLA screenwriting instructor Bill Boyle
SOCIALLY CONSCIOUS GROUP <—NOW FORMING!
For screenwriters with stories that will enlighten and empower a nation!
Moderator: Carolfrances Likins, cfljustice@gmail.com
TV COMEDY WRITERS GROUP <—NOW FORMING!
Moderator: Kae Smith, divineladyk@gmail.com
Half-hour TV comedy writers. No drama! Mid Wilshire/Miracle Mile area
HOLLYWOOD TELEVISION GROUP
Meets every other Sunday, 4:30pm, in Hollywood.
Television scripts only, half-hours/hours/webisodes, 2 discussed per session (read in advance)
New members must submit script to join. This group is currently full.
Moderator: Nancy Griffis, hollywoodtvwritersgroup@gmail.com

DRAMATICA GROUP
1st & 3rd Tuesday at Write Brothers in Burbank
Moderator: Sandy Stone, sandystone@aol.com
dramatica.com/community/writer_group/
RECOMMENDED READING
Toxic Feedback: Helping Writers Survive and Thrive
by Joni Cole

Offers feedback providers insights into constructive criticism and the difference between being heard and being obnoxious. Valuable advice to workshops and critique groups on how to thrive in this collective experience.