3-Day Writing Marathon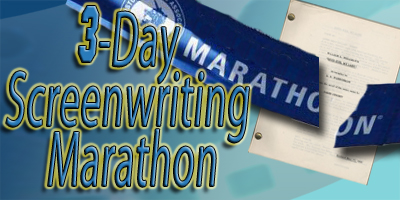 For three straight days, writers converge on a delightful Hollywood cafe to let loose the sloppy, inchoate, inspired messes that will become passionate drafts. No editing. No inner criticism. No holding back.
This is ONE WEEKEND where they commit to explore any & all possibilities with their story, FADE IN to FADE OUT, and do it in the camaraderie of fellow writers eager to help each other over creative hurdles.
PLUS three top Hollywood script consultants will provide free mini-consults to help writers find their voice.
!!!! THIS EVENT IS TOTALLY FREE !!!!
It's just writers helping writers motivate the discipline, courage and peer-pressure to rediscover the thrill and fire of writing with abandonment.
Check back for upcoming dates.