Triad 'Peer Writing' Groups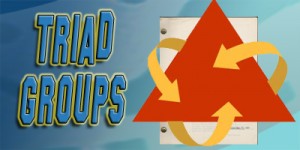 Since scriptwriting is a process, it is helpful to get knowledgeable feedback on your works-in-progress.
This program was created for that purpose.
DESCRIPTION:
A Triad is made up of three members of the Scriptwriters Network who share similarities (experience, genres) and who agree to read and give helpful, constructive feedback on each other's scripts.
To join a Triad, a Scriptwriters Network member can contact the TRIAD COORDINATOR, Jason Stillman, at jsmovieman@juno.com.
Please include the following information:
Genre preference; if that is important to you;
Your scriptwriting history;
Whether you write TV, features, or both; and
Your name, phone number and address.
Thank you for your interest in our Triad Groups.